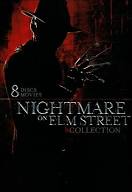 Nightmare on Elm Street Collection is a DVD box set that features all 8 Elm Street films, released in 2010.
Description
"Don't fall Asleep"- words to live by for Elm Street teens. Not a problem for fans wide awake with fear (and glee) as they experience these first 8 Nightmare movies released from 1984 to 2003. Each features Robert Englund's masterfully macabre incarnation of slouch-hatted, razor-fingered Freddy Krueger. Who mixes wicked wit with even wickeder mayham as he haunts teens when they're asleep and most vulnerable.
Movies
Bonus Material
Each film includes:

Theatrical Trailer (excluding Freddy vs. Jason)
Cast/Crew Biographies (excluding Freddy vs. Jason)
Jump to a Nightmare
A Nightmare on Elm Street includes commentary by Wes Craven, Heather Langenkamp, John Saxon, and Jacques Haktin
Wes Craven's New Nightmare includes commentary by Wes Craven
Freddy vs. Jason includes commentary by Ronny Yu, Robert Englund, and Ken Kirzinger
Ad blocker interference detected!
Wikia is a free-to-use site that makes money from advertising. We have a modified experience for viewers using ad blockers

Wikia is not accessible if you've made further modifications. Remove the custom ad blocker rule(s) and the page will load as expected.