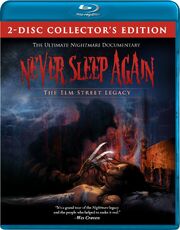 Never Sleep Again: The Elm Street Legacy is a 2010 American four hour direct-to-DVD documentary film that chronicles the entire A Nightmare on Elm Street franchise and the rise of New Line Cinema. The four hour documentary features most people involved in the Nightmare on Elm Street series, from cast members such as Robert Englund and Heather Langenkamp, to crew members such as Wes Craven, who directed the original film, Rachel Talalay, who also directed Freddy's Dead: The Final Nightmare, and Robert Shaye, who produced all of the original films. The documentary goes in-depth with all of the films of the original series, as well as the anthology TV show Freddy's Nightmares. The documentary notably ignores the remake of the original film, although interviewees touch on the subject in the special features.
External links

Never Sleep Again: The Elm Street Legacy at Wikipedia
Ad blocker interference detected!
Wikia is a free-to-use site that makes money from advertising. We have a modified experience for viewers using ad blockers

Wikia is not accessible if you've made further modifications. Remove the custom ad blocker rule(s) and the page will load as expected.