This is a list of home media releases of the films.
Box sets
1999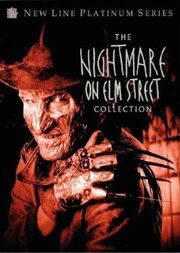 The first box set of the film series was released on September 21, 1999 and contains eight discs.
Original 3-D end sequence
Two pairs of 3-D glasses
Interviews with cast members, all of the directors, and the production design team
Freddy Krueger's appearance on MTV
Music videos from the films
Original press kit materials
All seven theatrical trailers
DVD-ROM

All seven screenplays
Trivia games
Interactive Freddy Krueger desktop
2010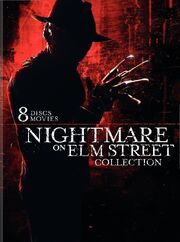 The second box set of the film series that was released on April 6, 2010. Although Jackie Earle Haley's Freddy is pictured on the cover, the 2010 remake is not included in the set. The set contains 8 discs. The first 7 contain cast/crew biographies and all contain Jump to a Nightmare scene selection
Original 3-D end sequence
Ad blocker interference detected!
Wikia is a free-to-use site that makes money from advertising. We have a modified experience for viewers using ad blockers

Wikia is not accessible if you've made further modifications. Remove the custom ad blocker rule(s) and the page will load as expected.