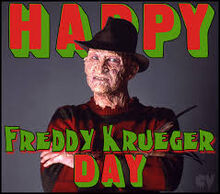 Freddy Krueger day was created by Hollywood, they made it a day to forget about Freddy's Dead: The Final Nightmare, people celebrate this day on September 12th.
How to Celebrate
When it was first created, you send postcards, but today, you can celebrate it any way you want, like have A Nightmare on Elm Street Marathon.
Ad blocker interference detected!
Wikia is a free-to-use site that makes money from advertising. We have a modified experience for viewers using ad blockers

Wikia is not accessible if you've made further modifications. Remove the custom ad blocker rule(s) and the page will load as expected.